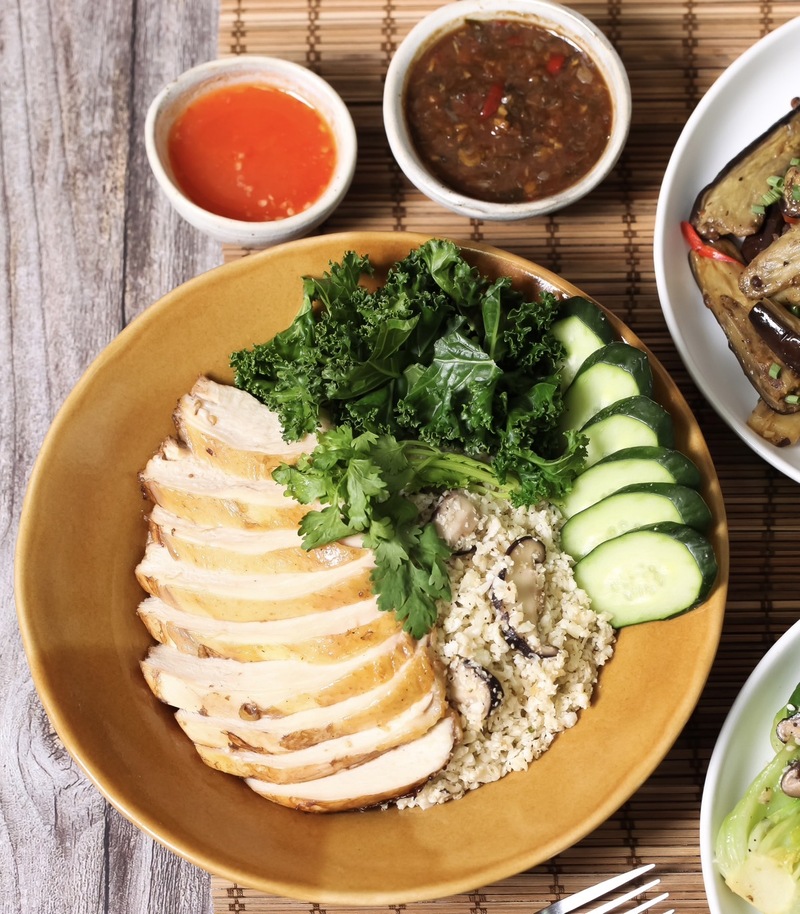 (Our own version of Khao mun gai is tasty too! Vegetable oil free and packed with fiber!)

Thailand is one of the best places in the world to eat cheap and delicious food. But if you're eating any of the 5 items listed in this article on a daily basis, you're seriously compromising your health and well-being.
Here are 5 foods that most expats living in Thailand eat everyday but don't know the health risk they are running.
1. Fried foods
Paleo Robbie cooks all Meal Plan dishes in organic coconut oil, tallow or clarified grass-fed butter, nothing else. After we finish cooking all the meals the chefs at Paleo Robbie throw away the butter and oil, because not only does reusing oil increase your chances of getting cancer, but also because all the nutrients are lost and what you're left with you simply don't want to use anymore.
However, how are restaurants and street stalls doing it? On a weekly basis we have street food vendors approaching us asking if they can take our leftover oil to reuse for cooking their street food. Most cooking oils thrown out by McDonalds and KFC is snatched up by street vendors too. Your khao mun gai tod and fried sea bass on the street is typically being cooked in highly oxidized murky oils that have most likely been reused 10-50 times previously.
Eating fried food in Thailand is a major health risk if you do it on a regular basis, with many expats mentioning side effects they get from eating too much. There's no surprise that cancer also happens to be the number one cause of death in Thailand either.
Paleo tip : Avoid fried food all together when eating on the street.
Paleo tip #2: Check the oil they are using, if it's murky or brown then don't have your food fried in it.
2. Foods cooked with cheap oils
It can be very tempting to visit the supermarket and pick up some of the cheaper oils priced at 90 baht, than going for olive or coconut oil which is usually at least twice the price.
Canola oil is popular in Thai supermarkets but did you know that it's bleached, mixed with sodium hydroxide, deodorized and hydrogenated? Well it's true and that's not something you want to cook your food in on a daily basis. If you're pan-frying foods stick to:
‣ Coconut oil
‣ Grass-fed butter
‣ Olive oil (low heat)
‣ Animal fat
Avoid cooking in all of the following:
‣ Soybean Oil
‣ Corn Oil
‣ Cottonseed Oil
‣ Canola Oil
‣ Rapeseed Oil
‣ Sunflower Oil
‣ Sesame Oil
‣ Grapeseed Oil
‣ Safflower Oil
‣ Rice Bran Oil
 
Paleo tip : Most restaurants in Bangkok will typically use oil we suggest you avoid to cook your food with. When eating in a restaurant ask them to use real butter instead of margarine or cheap oils.
3. Thai Iced coffee
Thai iced coffee and tea carts all littered all around Thailand, and as nice as they taste, there's a price your body pays each time you take a sip. Your average Thai iced coffee on the street will contain sweetened condensed milk which contains additives, artificial flavouring, heaps of refined white sugar and syrup.
Drinking iced coffee everyday provides your body with large amounts of refined sugar that will lead to weight-gain, your body feeling tired and sluggish all the time.
Paleo tip : Make yourself a coffee by adding a little coconut oil and grass-fed to kick-start your day. If that sounds like too much effort, order your single-estate coffee or tea without any sugar nor syrup.
4. Thai jelly desserts
Known as agar jelly, many thai desserts contain this compound and you'll see street vendors of these sweet desserts dotted all over Bangkok. If you aren't aware of the compound agar, it's commonly used as a thickening agent and is taken from algae plants.
It's used in Japan to help people lose weight as it ' bulks up in the gut' and is commonly used as a laxative. Agar jelly Thai desserts are typically mixed in with refined sugar and often sits in synthetic sugar syrup all day. It's essentially sugar and additives packed into a small jelly cube.
Paleo tip : Instead of Thai jelly, opt for a mango (without the sticky rice and sweetened coconut milk), or the mixed fruit platter, which have natural sugar and come with fibre.
5. Koi plaa
Koi plaa is a raw fish that you can eat in certain areas of Isan and restaurants in Bangkok. It's prepared by hand, mixed with herbs, lime, red ants (yes ants) and served to customers raw. Recent stories reveal that this type of fish contains fluke parasites, which are the cause for the infectious disease Fascioliasis.
Koi plaa has been linked to liver cancer in Thailand and is why many believe Thailand has a 10% higher cancer diagnosis rate in men compared to the rest of the world.
Paleo tip : An easy one to remember, avoid koi plaa altogether and opt for wild-caught fish instead. How do you know it's wild? Check the import/origin label. Ocean-caught Alaskan fish are always a winner.
Cheap food often ends up costing you more
Spending a little less money on your meals will save a 100 baht here and there, but the long term effects these 5 local foods can have on your body if eaten on a daily basis can end up costing you something you value much more. Eating these items in moderation is fine, but if you are or know someone who is eating these foods on a daily basis, you may want to start changing your eating habits and let your friends know too.
Please help raise the awareness of the importance of eating real foods by sharing this article on your Facebook page. Thailand is home to cheap tasty food, but that low price comes with hazardous ingredients and chemicals so make sure you don't make them your main staple.
If you're looking quality grocery produce then visit our online grocery. All our items are free free of antibiotic, growth hormones, MSG and any additives.